Stack and Ship Confidently with CradlePak Plastic Roll Cradles
Improve your roll-handling efficiencies with CradlePak. Our strong, compact, and moisture-resistant plastic roll cradles will help you ship rolls of paper, plastic film, textiles, and other rolled goods safely and efficiently with a product made from environmentally friendly materials.
Plastic Roll Cradle Sizes
We offer 18 different sizes of roll cradles, which cover roll diameters ranging from 6" up to 48."
Knowing your roll diameter, you can reference our CradlePak size list to determine the correct size to use.

The Benefits of our Roll Cradle Packaging
Save Warehouse Space
---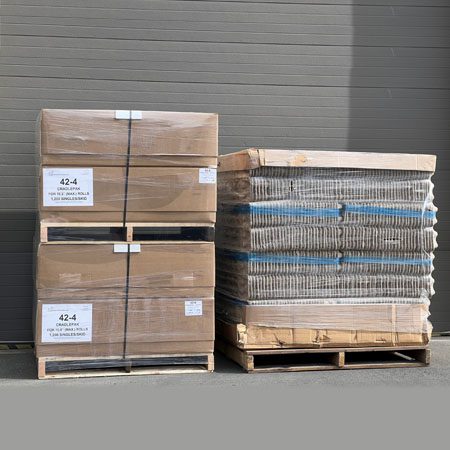 Our thermoformed design offers the most compact nesting in the market. Pictured on the left, a stack of 2,400 CradlePaks takes up a similar amount of space as 360 pulp cradles. This helps your business maximize storage space and keep your production floor clear of clutter which improves safety.
Universal Protection

---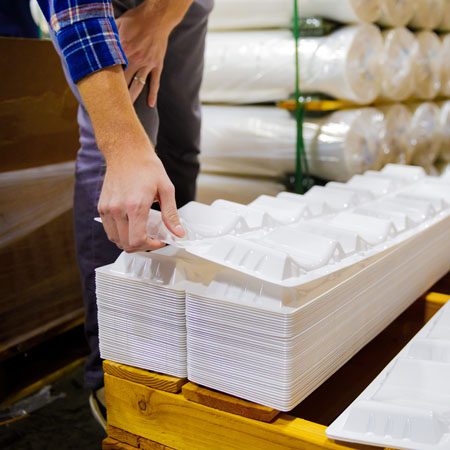 CradlePaks are used across a wide range of products in different industries that include: plastic film, paper rolls, geotextiles, roofing membranes, carpet, metal roll up doors, etc.
Improves Security
---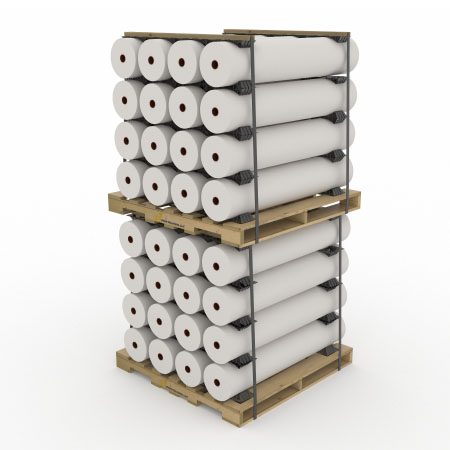 The strength and flexibility of our plastic roll cradles give our customers confidence that their products will be delivered undamaged and claims-free. Plastic CradlePaks are more durable than other options and can be reused multiple times, for example moving work in process (WIP) rolls in-house. Plastic cradle packaging won't break down due to moisture, allowing your products to be stored outside or shipped overseas in containers.
Superior Presentation
---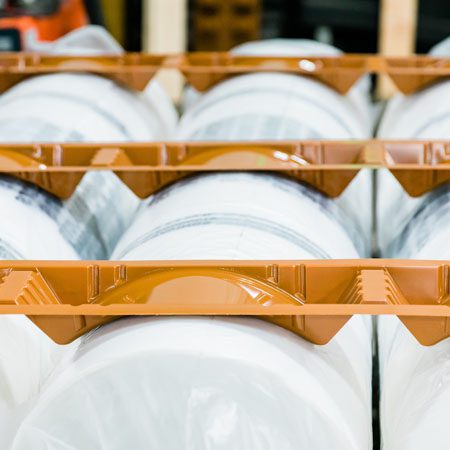 Your customers will appreciate how our plastic roll cradles improve the appearance of the product that you work hard to make.
Sustainable Plastic Roll Cradles
We built Tamarack Industries with the mission of making products from recycled materials that can be recycled in turn. Our plastic roll cradles are made from PET plastic, which is recycling code #1, and can be returned for reuse or dropped off at a local recycler to eliminate disposal costs. Recycled PET requires 79% less energy than virgin plastic to produce. This reduces carbon emissions and prevents plastic from getting into landfills and water systems.
The design of CradlePaks is also part of that mission. Their compact and lightweight design means they take up less storage and shipping space, which further reduces their carbon footprint by cutting back on fuel costs. They can also be returned to our facility and we will do the recycling for you.

When you use our products, you'll be able to share our vision for a more sustainable future. It's a cause that's important to consumers as well. A recent survey found that 66% of U.S. adults are willing to pay more for products if they are sustainable. That number is likely to grow, since 70% of respondents also said that climate events from the last year made them more likely to buy sustainable products.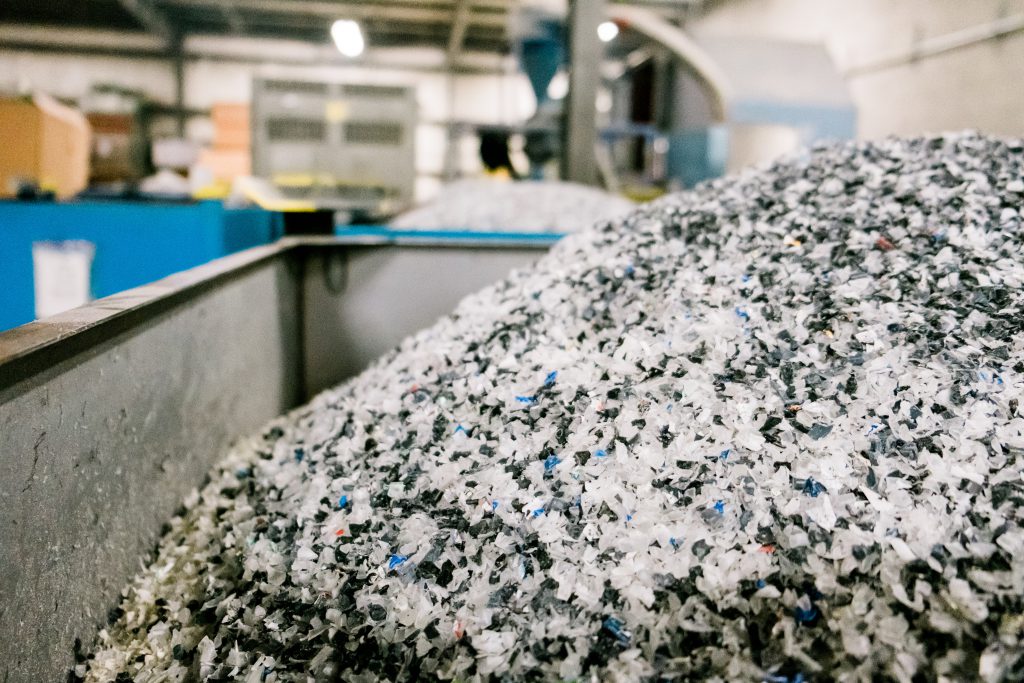 Order CradlePak Plastic Roll Cradles Today
Ready to order strong and environmentally-friendly roll cradles for your business? Reach out to our staff to receive a quote.
Additional Shipping Products
Core Plugs
---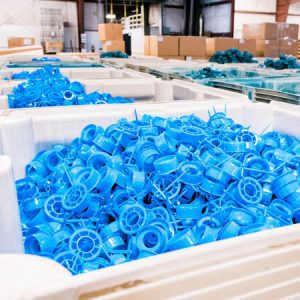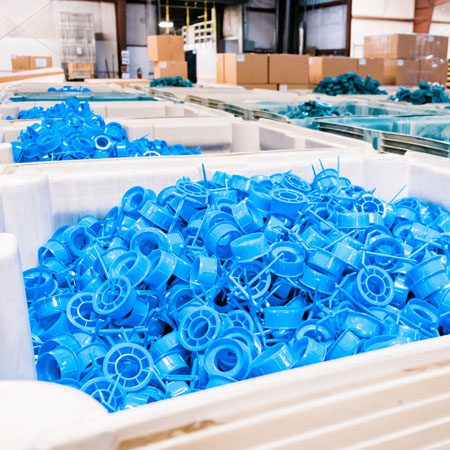 In addition to our roll cradles, we also offer high-quality plugs, including single, double, pad, and suspension plugs. They will prevent your cores from collapsing and keep sensitive material from bumping up against other items in transit.
Custom Injection Molding
---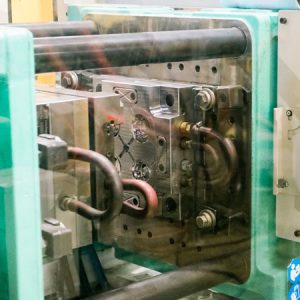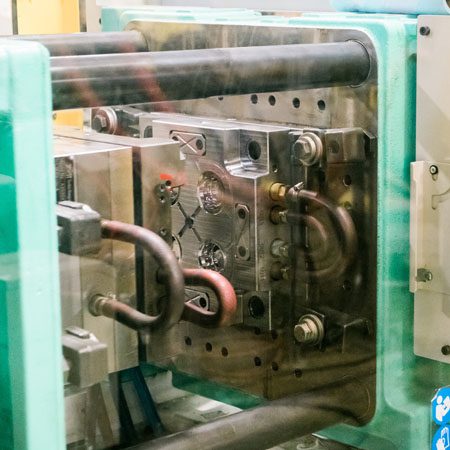 Tamarack also specializes in custom molding services, including complete part design services. Our presses range from 25 to more than 500 tons with a shot capacity from 1 to 2267 grams. In addition to part manufacturing, we can also help with ultrasonic welding, drilling, and assembly.